Tokyo in 72
Tokyo is the perfect destination spot for a mother-daughter getaway. Japan's capital is Paris, New York City, London combined, and some say it's the coolest city in the world. It's hard to disagree. You'll find restaurants, from mom-and-pop ramen stalls to Michelin-starred dining; shops galore, the cutest neighborhoods, the craziest shows, historical sites, people watching, gardens, museums and cuddly cafes where you can sip tea and hang out with your favorite animals. Tokyo is also easy to get around, once you figure out the subway system (there are 13 lines) and the people there are always willing to give you a helping hand. Japan has some of the best customer service in the world. We had one cab driver actually park his cab and walked us to the right train entrance -- that has never happened to me in New York or anywhere else for that matter. We had a little more than three days in Tokyo. Not enough time to discover this massive city and all its nooks and crannies, but we managed to squeeze in a lot -- jet lag and all.
Day 1
There is no getting around the jet lag, so we start our day early with a morning tour to help get our bearings. I never used to be a fan of the "guided" tour, but I went on a couple last year and it really makes a big difference, especially when you don't know the language.I have had great luck with Viator tours, which is operated by Trip Advisor. Their local tour guides have all been quite knowledgeable and friendly. Also, having a guide is like having a history professor and translator tag along with you. We went on the Tokyo Morning Tour which left from Tokyo Station and took us to the Meiji Jingu Shrine, the Imperial Palace East Garden, the Nakamise shopping street, the Asakusa Kannon Temple, then ended at the Ginza Shopping District. It was a lot in 4 hours and the best part was that we were in an air-conditioned bus so my 13-year-old had little to complain about. Four hours is also the limit for most teens when it comes to temples and gardens.
The tour ends at the Tokyo Tourist Information Center where you can opt to say to watch a traditional dance. There is no pressure to stay, but we did for the air conditioning. I confess, I enjoyed the show and we even made the TTIC's Instagram site. If I had known, I would have put some lip stick on and fix my hair.
Next stop was lunch and we both were craving ramen. I don't know why one craves hot soup when it's hot and humid. We found a great spot in the Ginza district thanks to my pocket wi-fi and google maps. Then it was time for some shopping. Ginza is 5th Avenue, Champs Elysee and Rodeo Drive combined. July is also a great time to shop because most stores have their seasonal sales. It was at one of these tempting sales at the Printemps Ginza where we had our only lost in translation moment. I miscalculated the conversion rate (darn decimal point!) and bought by daughter a pleated skirt and cap sleeve sweater for $150 US dollars. But, hey it is a cute outfit.
We were staying in the Roppongi Hills neighborhood, so before heading out to dinner we go to the top of Roppongi Tower to Tokyo City View -- an outdoor sky deck where you can take in Tokyo's immense geography. The Mori Art Museum is also located in the same building and it's worth a visit.
We ended a night with a friend, an ex-pat who has been living in Tokyo for several years, so he knew where to take us for tasty sushi in the Shibuya district. The tiny, nondescript spot was filled with Japanese business men (and some women). You sit on a counter in front of a conveyor belt where the chefs placed plates of raw tuna, yellow tail and other tasty delicacies on the moving belt. The tuna came in different grades, each one better than the first. It was Sushi and beer for a great price -- well, he paid, so the price was even better.
Jet lag tip: Stay awake as long as you can. Fight the urge to go to bed at 4 PM.
Day 2
Jet lag continues, so it's another early morning and we're off to another neighborhood. We have three on our list. We take the subway to the Shibuya district. So the subway can be a bit confusing for first timers, because there are several lines with separate ticketing. I learned this the hard way. But the trains are very clean and the commuters are quite orderly. I'm sure if they weren't so polite, we'd be getting angry looks for not walking down the stairs on the left side.
When you exit the Hachiko exit of Shibuya station, you'll see it -- Shibuya Crossing, one of the most famous intersections in the world. Some say it's the busiest crossing and as a New Yorker, I would add polite. Pedestrians wait patiently for the light to turn green, then they cross, from all directions, managing not to bump into another. The best spot to see this is from above, like the 2nd floor of Starbucks -- but good luck getting a seat.
So after crossing safely and fighting the urge not jaywalk, we head to Tokyo's mecca for teens, Shibuya 109 -- 10 floors of clothes, shoes, costumes, accessories, makeup and more for the trendy Tokyo girl and their American fans. You'll know you are nearby when you start hearing Ariana Grande. When we visited there was an Ariana Grande pop-up shop, where I watched the young Japanese girls spend several minutes crafting notes that they placed in a box with a sign promising that Ariana would be reading the messages.
We then head to a nearby cat cafe, the Cat Cafe Hapineko where it costs about 20 US dollars to spend half hour to hang out with cats who really just want to sleep (and usually not on your lap.) Since, I'm allergic to cats, I stand in the corner taking pictures and nibbling on a biscuit, while sipping tea from a plastic cup -- that's the "cafe" part. My daughter tries to lure some of the cats with the food you can buy for about 5 US dollars. The cats must be in cahoots with the owners, because this is the only way they will come to you. Once the food is gone, they move to the next customer. There are dozens of cat and cute animal cafes everywhere in Tokyo -- they are so popular that several have now opened in the U.S. I'll have more on cute animal cafes later.
Then it's off to see giant robots at the Robot Restaurant in the Shinjuku District. So, this is about as touristy as one can get in Tokyo, but I have to say if you are going to do anything cheesy in Japan, this show should be top on your list. It's like being dropped into a loud video game, but with singing, dancing, Las Vegas style, with giant robots. I have never experienced anything like it. I was also impressed at how organized the show was, from the costume and set changes to the quick food and drink filled intermissions.
We end the night meeting another friend for dinner -- this time for tempura spot in Shinjuku called Tsunahachi (3-31-8, Shinjuku, Shinjuku-ku) But not the tempura we're used to in the states. I'm still chasing this tempura dragon.
Tip: Well, I don't know if this is a tip or just a fact. While the shopping is awesome in Tokyo, I found that most stores carry only "One Size Fits All" -- and the "all" in this case are slender Japanese women.
Day 3
It's our last full day in Tokyo. We make like Gwen Stefani and head to Harujuku, another teen shopping mecca. It's a great spot for people watching. Here you'll see young (and I must say some older) girls and boys teetering on their platforms and their babydoll outfits, some sporting pig tails and blonde wigs. You wonder what they do for a living.
But the highlight of our trek here was discovering the neighborhood right next to Harujuku because my daughter begged we go to an American restaurant called Urth Caffe. If I were to ever move to Tokyo I would live and play in Otmotsando. (There was actually a private party at this Urth location, so we had to take a cab to their second cafe -- yes, there are two Urth's in Tokyo. Who knew?)
Then it was time to check out one more cute animal cafe -- the famous Harry Hedgehog and Bunny Cafe in Minato, close to our host's home. I say famous, because when we arrive, there is a sizable line to get in -- and there is a sizable rain cloud above us. Also, we didn't make reservations. But because we opted to see both a hedgehog and bunny, we only had to wait 20 minutes. (There are actually two cafes, one is exclusively for hedgehogs and that line is longer. I don't know why because the bunnies are so adorable.) We sit down after sterilizing our hands and the young girl places a napkin on our lap. You know, just in case there is an accident. She brings over the tiniest hedgehog and softest bunny. We then spend half an hour trying to get them to pose for our I-Phones. (Again, I spent $20 US dollars to hang out with two animals that my dog chases in our backyard -- but then again, my backyard hedgehog and bunny are not as cute.) But I have to admit, that hedgehog was cute and I thank him (or her) for not having an accident on me.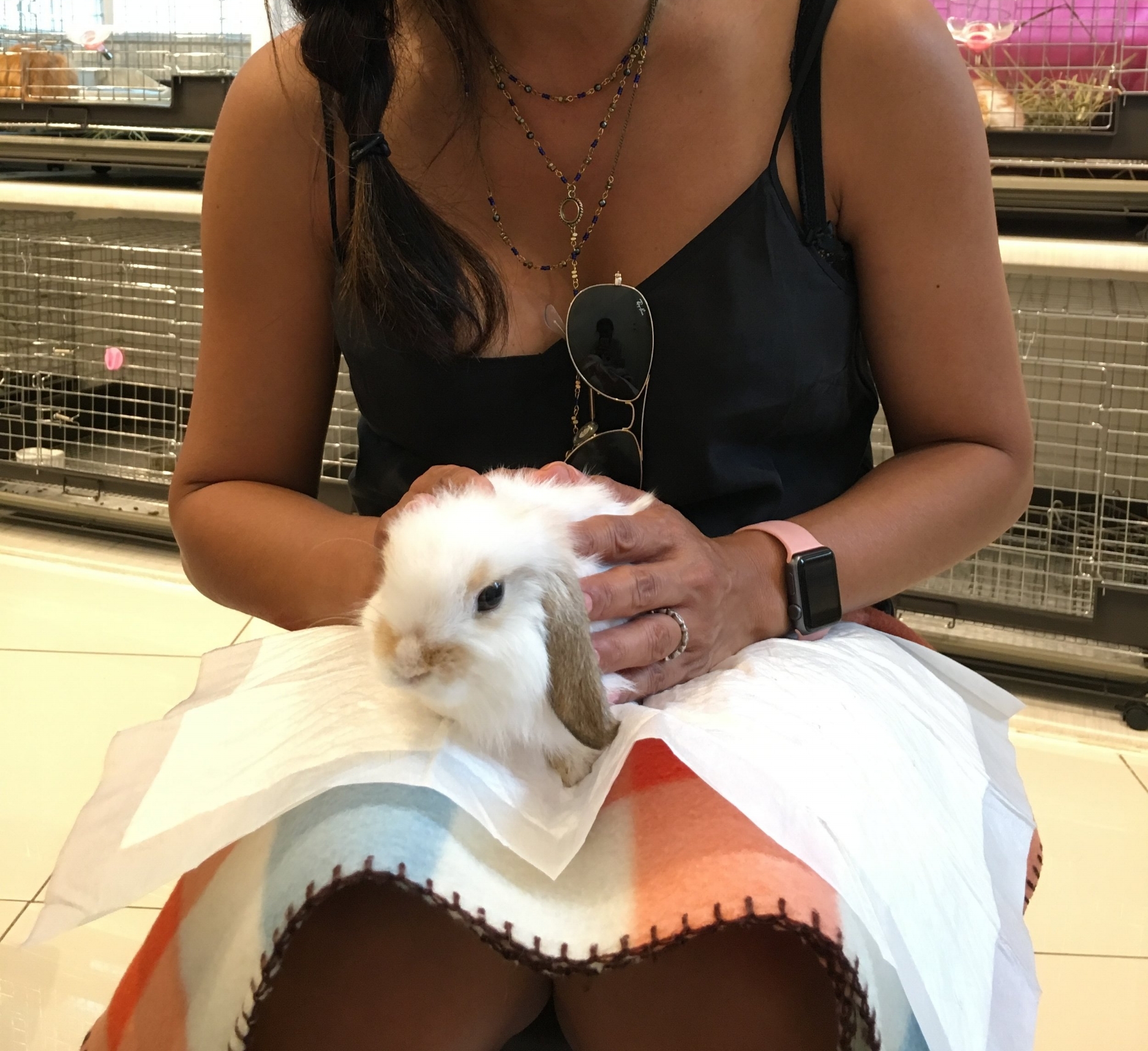 After a quick rest stop back at our "house" we decided to spend our last dinner in the neighborhood. The rain is also coming down pretty hard now. We eat at Hakata Kushiyaki, where they grill the food in front of you -- a great compromise for my teen who isn't a fan of seafood and sushi.
Three days and we were were in love. Doumo arigatou gozaimasu Tokyo! We can't wait to return!
(Check out my post on the Top Things to Buy in a Japanese Pharmacy! I'm obsessed with skin care and love trying out new products and found some great things in Tokyo!)